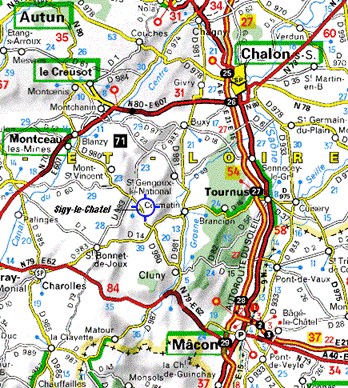 Sigy-le-Chatel is situated about 15km from Cluny and 40km from Mâcon and Chalon-sur-Saône. Sigy and the hamlet Corcelle, where our gîte is located, are attainable via route D980.
Travellers, who wish to come via public transport, can make use of the TGV, who has a station in Mâcon-Loché, and can continue their travel by bus or taxi.

You can find shops at about 5km from Sigy-le-Châtel, at Salornay-sur-Guye. Momentarily there are 2 bakeries, a butcher's shop, a grocery store (where, in the vacation period you can buy English newspapers), a small supermarket (Casino), and a "bureau tabac" (where, apart from tobacco, you can buy stamps, telephone-cards, toys and souvenirs). In Salornay-sur-Guye there is every 2nd and 4th Thursday of the month a little market, where people from the neighborhood sell their own cultivated vegetables.
In Salornay-sur-Guye you can also find a little café and a restaurant. Furthermore, in the neighborhood of the gîte, you can find two restaurants on the D980, direction Montceau-les-Mines and a restaurant in Sigy-le Châtel, on the route to Cluny. This restaurant "Restaurant du Zoo" is easy to reach by feet. It owns his name at a small zoo, which was established there in the 70's.
For more shops, big supermarkets, cafés and restaurants, you can drive to the nearby cities Cluny, Mâcon, Tournus, Chalon-sur-Saône and Montceau-les-Mines.
With the interactive map underneath, you can obtain more information about the attainability of our gîte, and about the adjacent villages and cities.
In the gîte you can find a lot of folders and maps with information on the surroundings and curiosities.